"Powerful, Stylish Electric Mountain Bike"
www.iloveebikes.com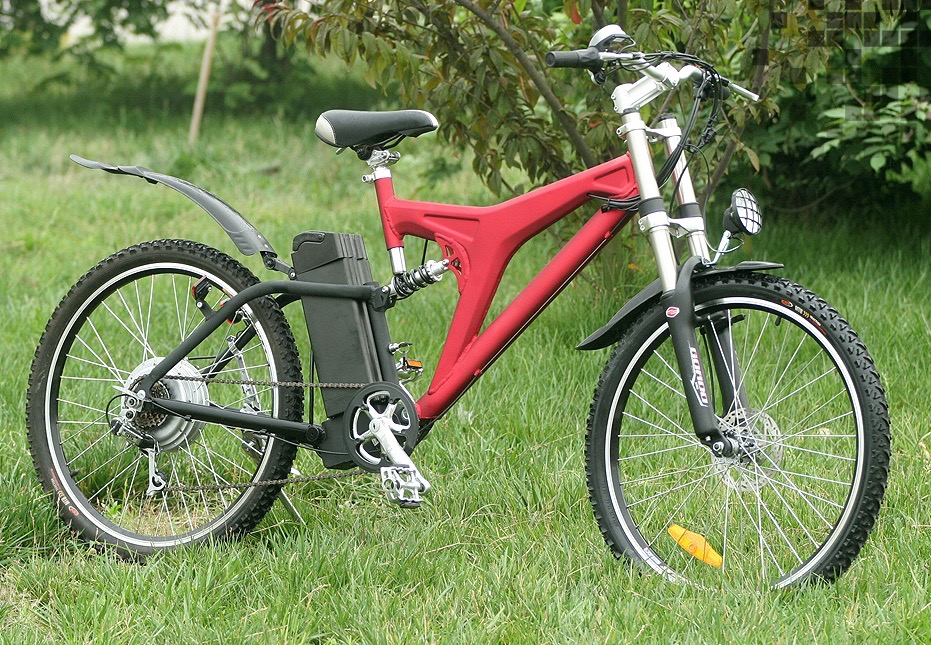 "Stealth MTB"
36v/10ah Advanced Lithium Ion Battery
Frame: Strong aluminum alloy
Motor: 450 watt brushless
Charger: Hi Power for Li-ion 36v smart
Front Forks: ZOOM CH-650 DH, alloy, double-crown, adjustable suspension
Mudguards: Straight plastic style
Handlebars: HL, alloy MTB style, 25.4
Controller: 36v/15A or 20A brushless
Throttle & Grips: Wettsen
Battery: 36v/10ah Li-ion HI POWER
Wheels: 26 x 2.10 MTB double wall
Rims: 26" alloy
Gears: SHIMANO 6 speed
Seat Post: HL steel
Brakes: Front and rear disc brakes
Brake Levers: WUXING, alloy, black shelf with motor stopping wires
Normal Load: 225 lbs./max. 275 lbs.
Weight of Bicycle Including Batteries: 68 lbs.
Charging Time: 4-6 hours dependent on use
Range: up to 20 miles depending on conditions
Maximum Speed: 18 mph (faster with pedaling)
Assembly: Pedals, front tire, fender & light
FRONT & REAR DISC BRAKES
When you look at features, there are a variety of things to consider. One of the first features will be safety. This is where our 443 mountain bike shines. You love that your electric motor will power you up the hill, but what about safety when you are hurling down that mountain?
When you are going down that steep slope, you want to have full control of your bike, and no regular bike brakes like on cheaper models will work for you. We know this! This is why our 443 mountain bike comes with our front and rear disk brake systems. These give you optimum braking ability for those steep hills.
SHOCK ABSORBER
You know that one of the hardest workouts in mountain biking is not just your legs, but your seat! This is why we have the built-in shock absorber that takes the pounding, so your blessed seat does not have to. We know that this is one feature you will be thanking us for!
BUILT-IN HEADLIGHT & REAR LIGHT
This bike not only has a front headlight, but for safety it has the rear light as well. We know that you don't always ride this on a mountain. When you are along a road, you want a bright taillight to warn upcoming traffic of your presence. With your powerful lead-acid or Li-ion battery, you don't have to worry about being seen!
CHOICE OF BATTERY OPTION
Long-life 10ah Li-ion battery pack.
Lithium 500 recharges 11 lbs. (5 kg)
DERAILLEUR
With the six-speed derailleur, you are not limited to the speed of the electric motor. You can speed down the road as fast you can in high gear! You get the best of both worlds—exercise and electric assist.
Movie
Check out our movie introducing the original mountain bike to a local man who had never seen an electric bike before.
CALL NOW TO ORDER YOURS!
814-326-4121