"A Better Bike for a Better Future"
POPULAR MODEL DESIGN
LIBERTY EB-744
48 Volt, 23 Amp Town & Country Cruiser II
Specifications
Dimensions: 71" x 26" x 42"
Seat height: 29-30"
Tires: 16" x 3"
Rims: Alluminum Alloy 
Mirrors: Right and Left mirrors included
Wheel Base: 46.5 in (1180mm)
Front Shocks: Premium Dual Front Fork Shock Absorbers
Rear Shocks: Dual L:270 shock abosorbers for maximum comfort
Brakes: Front Drum Brake, Rear Servo Brake
Controller: The brains of the vehicle interfaces the batteries and motor: 48 volt/ 23 Amp
Dashboard: Displays voltage, lighting, system staus, charging status on an easy to read display.
Lights: Headlight, Turn Signals, Rear Turn Signals
Seat: Comfort Motorcycle style
Motor: 750 Watt Brushless Hub Motor with peak 1250 watt rating
Batteries: 48 Volt 20 Amp Hours High Power Sealed Lead Acid
Charger: 48 Volt DC Output, 120 Volt AC Input intelligent Electronic
Charging Time: Dependant on use! 5-8 Hours
Max Speed: 20 mph with speed limiter removed (15mph with limiter engaged
Torque: 26 N.M., climbs up to 25º hill
Range: 35-42 miles depending on Riders Weight, Road Conditions Etc
Normal Load recommended: Load 220 lbs.
Maximum Load: 300 lbs.
Weight of Cruiser: 177 lbs.(including 62 lb.Battery Pack)
Assembly: Pedals, Front tire, Front Fender (10 - 15 minutes)
Stands: Steel, black, with both double and side stand
Pedals: Pedals for meeting ebike legal requirements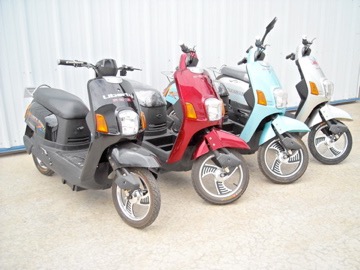 Town & Country II
This 48v electric bike is just the ticket for getting around town. It is great for going to and from class, work, shopping, and just having fun on your electric bike.
Colors: Blue, Red, Silver or Black available
OPTIONS:
A Stylish rear trunk is color coordinated to match your 744 Town and Country II Scooter. It installs easily with bolts and hardware included. It is a stylish and functional addition to your ebike riding experience
Windshield: $38.95
This nicely sized windshield sells for $49.95 at most internet locations. We think this adds so much to your Town & Country experience that we tempt you to buy it at $38.95 with no extra shipping if you purchase it at the same time we ship your 744 Town & Country Ebike.

www.iloveebikes.com
CALL NOW TO ORDER YOURS!
814-326-4121